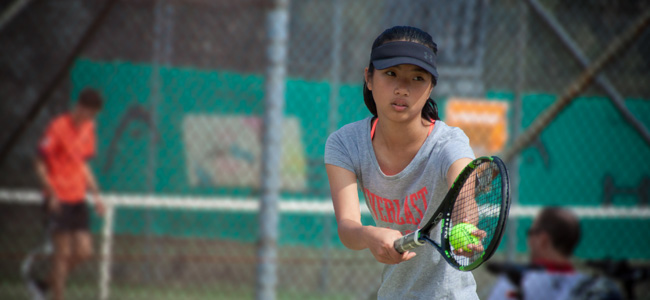 Welcome to On the Line Tennis
Tennis is great for full body coordination and motor skills, with health and fitness an added benefit.
We provide a wide range of tennis services, from school holiday camps to beginner lessons, from weekly coaching programmes to high perfomance training, and everything in between.
Experience our award-winning coaches and the great facilities at Melba Tennis Club.
Regardless of your age or skill level, On the Line Tennis will take your tennis game to the next level.
What's On
Our Junior Coaching Program runs during the school terms and provides a wide range of tennis coaching options from our award-winning coaches. From entry level kids to those who want to get serious about their tennis, we're sure to have a coaching program that suits.
Holiday Coaching Camps provide one or two weeks of intensive tennis coaching from our award-winning coaches. Play games, win prizes - come along even if it's raining! Holiday Coaching Camps are a great way to get some exercise and have great fun in the school holidays, with classes available for all ages and levels.
New Classes
Drop Shot Divas is our newest class, created by our own Coach Gabby - low-pressure social and tennis skills for 11-18 year old girls. You can sign up for this fun and friendly class through our Junior Registration Form.
You can also register online for our Adult programs like Cardio Tennis and Casual Adult Lessons. Our Junior Program now features several new classes such as Young Adult Classes and the Hot Shots Pro Squad.
Latest Updates

Please visit our Facebook page here for weather updates, tournament information and other special events.